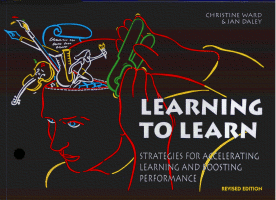 Learning to Learn
has become a classic. An early layman's summary of the principles of the learning revolution, it is still in demand, spreading good news around the world. It is unique in giving messages in two forms: concise text on one side of the opening explains the relevant theory, while on the left side graphics summarise or amplify the message.
This book has helped many thousands of people to develop personally effective skills for boosting achievement.
Some of the drawings use our logo,
Nifty Neuron
to illustrate natural, brainfriendly ways of working and learning. You can meet Nifty
here
and see some of the strategies. And you can order this amazing book direct from the authors by e-mailing Christine Ward.
Go to
Order
to get supply and pricing information. We post all over the world by arrangement.
Other books:
Teaching to Learn
Parents' Homework Handbook
Study for Success